09/03/2015
This homeowner had 7 contractors to their home for a very unique problem.
They live at the bottom of the hill beside a stream and retaining wall. When it rains the back yard fills to over 2 feet deep of water. Looking out the sliding basement door it looks like an aquarium. We created a trench and pump system that has corrected the issue! That's the experience of Cottrell Basement Waterproofing LLC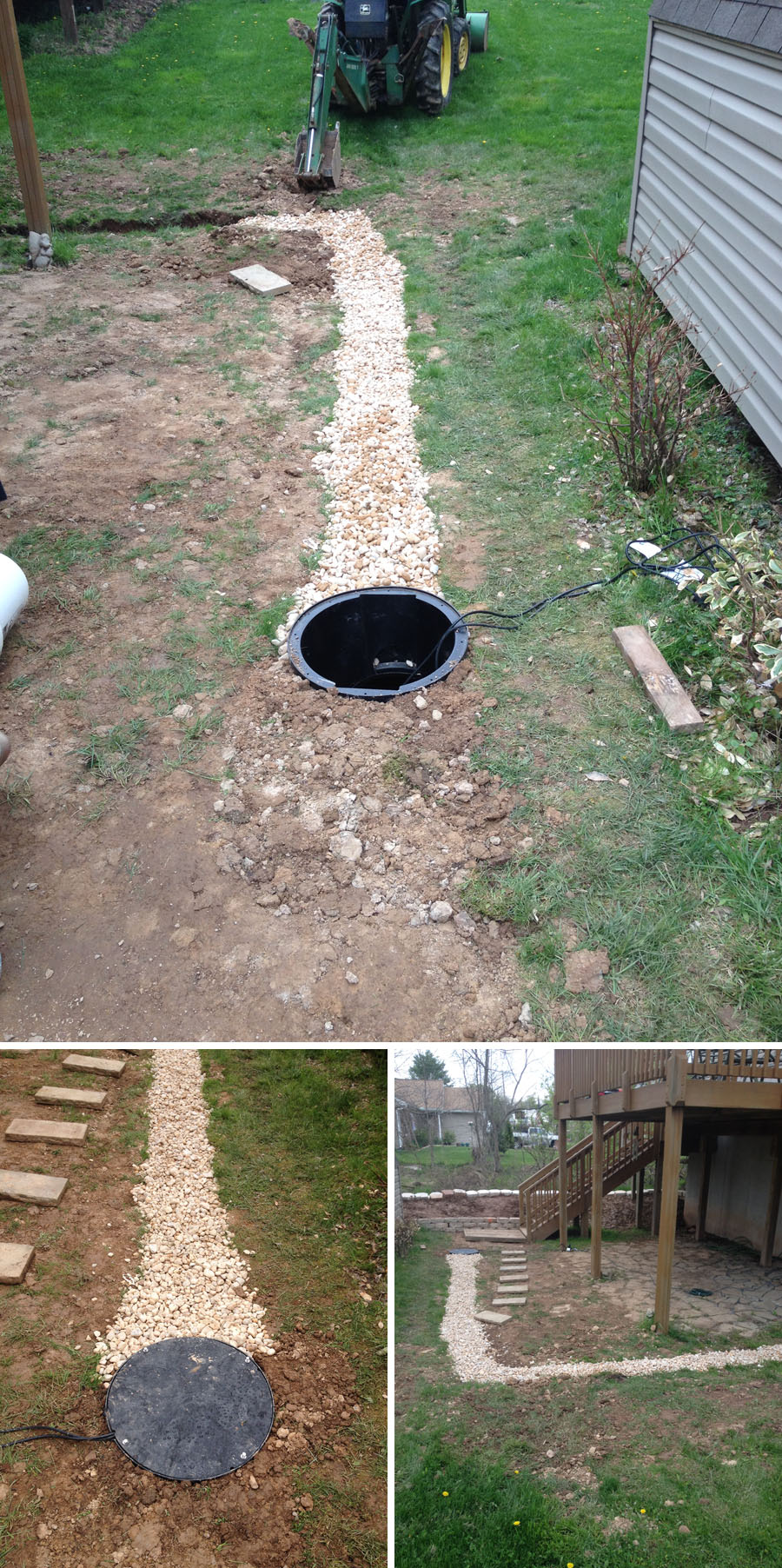 05/17/2014
Another successful Waterproofing System installed
For 26 years we experienced water infiltration into our basement. Along with the typical infiltration in a few areas around the perimeter, once the water table reached a certain level, we experienced water coming in via the french drains.
We talked many times about having the basement waterproofed, but figured that the project would be cost prohibitive. Finally, enough was enough. As a result of hurricanes and tropical storms tracking northeast becoming part of the normal weather patterns or trends over the past several years, we contacted Denny Cottrell (Cottrell Basement Waterproofing) and scheduled an appointment for an inspection and estimate. Much to our surprise, the price to complete the work was very affordable.
The meeting with Denny was very informative and the product presentation was very professional. We scheduled the work to be completed. During the 4 days that the crew was there, they were very polite, professional and kept the mess to a minimum.
Two weeks after the installation of the system we received nearly 4 inches of rain, certainly a test for the system. In the past we would have surely been dealing with utilizing a shop vac, attempting to stay ahead of the water to no avail, as has always been the case.
But this time was different thanks to the Cottrell Basement Waterproofing System. Over the course of the 3 days of rain I regularly inspected the basement and found that we now had a DRY basement after all these years.
In addition, Cottrell installed the E-Z Breathe system in the basement. Again we were amazed that after only a few days of its installation, the basement no longer smelled like a musty basement we, and many, are used to.
I would like to thank Denny and his crew for an excellent job and would highly recommend them for your basement waterproofing needs!
SEL – York, PA

05/11/2014
Happy Mothers Day
Cottrell Basement Waterproofing has it's roots firmly in soiled around family at heart. We would like to wish all Mothers a happy and beautiful day today. Life has us all in a fast pace. But life wouldn't be possible without Moms.



05/10/2014
Sump Pump Installation
We had a sump pump installation completed and were pleased with the prompt response for an estimate and a quick turnaround for the work to begin. Dan completed the work, was careful to minimize the work debris, and went above and beyond to make sure that we received the best service. Thank you Dan!

05/07/2014
A Cottrell Basement Waterproofing system is 2nd to none.
Sump pump installation enables you to efficiently, effectively, and easily remove water from your basement before it has time to do any damage. A proactive solution for keeping your basement dry, sump pump installs can be part of a basement waterproofing or French drain system or put in as a stand-alone system. At Cottrell Basement Waterproofing, our team can help you assess your wet basement issues and recommend the sump pump installation that's best for your specific needs. We're here to put our 22 years of experience as masonry contractors and foundation repair specialists to work for you. For customer service, quality craftsmanship, and a basement that stays dry, we're the pros for the job.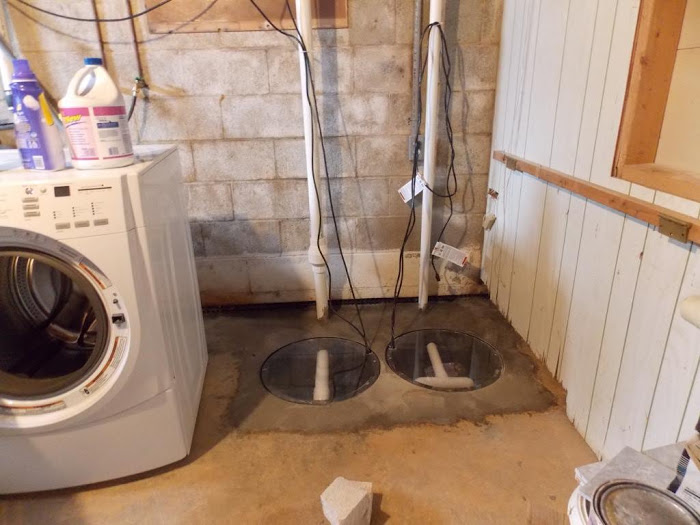 05/01/2014
Problem solved!
"Dan looked at the situation in the basement and quickly came up with a plan to correct the problem. He explained everything that would be done without any sales pitch. The knowledgable crew was here two days to install the drainage system and two sump pits. Plastic was used to control most of the dust. When the job was complete, they reviewed everything that was done and assured us that the problem was solved. After three straight days of heavy rain, the basement is totally dry. No more towels on the floor to soak up the mess! We recommend Cottrell Waterproofing without hesitation. Thanks, guys. Great job!" Tony P
More Reviews

04/17/2014
Over Time Damage will Occur
If you don't repair, over time wall loses its compressive strength and cracks due to acidic loads. Efflorescence covers wall giving evidence of lime loss from the wall. The Footer can even shift at these later stages. Visible water after heavy rains and eventually this water will carry silt with so their block decay.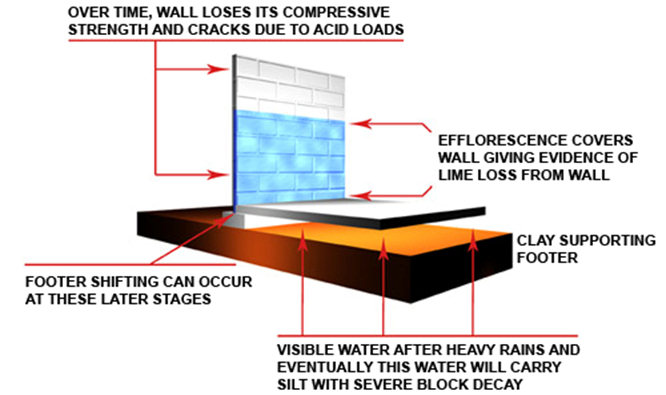 04/30/2014
Hard Rains – Enough is Enough
This elderly homeowner is retired and on a fixed income. She had been dealing with hard rains with a broom and shop vacuum for a very long time. She even had 3 holes banged into the floor so that she could put pumps in them as needed. Enough was enough. As she plans to sell her home she was informed selling it with this issue would cost her a huge loss in value. So she call us and gained huge value with a transferable warranty.

04/26/2014
Review for Cottrell Basement Waterproofing
"If you're considering basement waterproofing, look no further than Cottrell. Their system is second to none, the work is high quality, and the crew is specialized, experienced and knowledgeable. Denny and Dan explained the process clearly, and were very transparent from the first contact. During the in home consultation, they actually give a presentation detailing every step. I knew nothing about basement waterproofing, sump pumps, or drains before, and I found it to be very informative. Their process made me feel very comfortable to make the investment. There were no surprise costs. I paid exactly what the job was quoted, and not a penny more. The crew was punctual, and worked extremely hard each day. They took care to protect the finished areas of my basement from dust, dirt, and debris. Denny even sent a professional cleaning crew over when the job was done. Nice touch! All in all, the small investment I made with Cottrell waterproofing has given me piece of mind for the future. I no longer fear those days when the rain just won't stop coming down. Not to mention the fact that the Cottrell Waterproofing system just added instant value to my home. Thanks Denny." Jonathan C
More Reviews

04/24/2014
Stronghold Floors
After Cottrell Basement Waterproofing LLC solves your basement water issues, we recommend Pennsylvania homeowners consider epoxy coatings from Stronghold Floors to protect and beautify your basement floor.

04/17/2014
Review for Cottrell Basement Waterproofing
"Our basement has been getting wet most of the 20 years we lived in the house. Finally we called Cottrell waterproofing. They did an excellent job in a timely manner. Worker's were very knowledgeable and most pleasant . And yes, our basement is Dry after 2 days of rain. Thank you I would recommend Cottrell to anyone in need of waterproofing." Christine A
More Reviews