Why Choose Cottrell Basement Waterproofing for Your Leaky Basement?
Wet Basement Problems? Call Cottrell Basement Waterproofing for complete basement waterproofing services, foundation repair, and mold removal. Getting your wet basement fixed and dry is critical not only to the health of your home but also to the health of your family. Cottrell Basement Waterproofing are the foundation experts to trust when it comes to getting the job done right. We will eliminate your basement leaks and ensure your home or commercial property is a safe, mold free environment.
Our basement waterproofing experts are here to help. Offering 22 years of experience, affordable prices, superior workmanship, and fantastic unconditional lifetime guarantees, we'll solve your leaky basement problems once and for all.
If there is potential for structural damage and decay, a wet basement can make your home unsafe–that's why you need to call Cottrell Basement Waterproofing today. Persistent moisture leads to mold growth, which can cause health issues ranging from allergic reactions to cancer and even death.
Our foundation repair contractors specialize in interior French drain installation
we provide complete waterproofing services for your basement
we'll create a customized system designed to your building's specific wet basement problems
we use the best equipment available to guarantee your basement won't ever be wet again.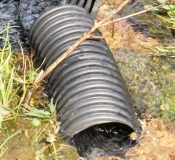 Competitor's Pipes (overflowing)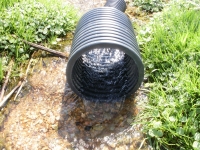 Our Solution to Piping (Plenty of flow)
Cottrell's sub-soil pipe is the biggest in PA by far, resulting in a more superior French drain system capable of keeping your basement dry forever! In fact, our system is so big we do not find any need for you to install an expensive battery backup pump, providing you yet more savings. Knowing this, Cottrell Basement Waterproofing is a great choice to get your basement dry and keep it that way.
When you contact Cottrell Basement Waterproofing, you deal directly with the owner. There are no middlemen and that ensures you get only the most knowledgeable, professional treatment. We provide in-home consultations for your convenience, and we never use high-pressure sales tactics. In fact, all contracts have a three day rescindment period in case you change your mind.
Call us when your searching for the best basement waterproofing company to deal with, you will save money and get a far superior system. We are the only company in Pennsylvania that offers a lifetime warranty on our sump pumps. Our complete basement waterproofing system carries a full lifetime transferable warranty!
Interior French Drains Installation
Water takes the path of least resistance, meaning it will force its way through the smallest cracks, including the join between your foundation footings, floor, and walls. The moisture in the soil around your building can work its way into your foundation, leaving your basement flooded and you with a big mess. But with an interior French drain system from Cottrell, this water can be eliminated before it has a chance to do any damage.
The Cottrell Basement Waterproofing team is here to bring you a waterproof basement that's capable of handling the unexpected. We dig a small trench around the inside perimeter of your foundation, filling it with gravel and a high-volume perforated French drain pipe before covering it with a fresh, smooth layer of concrete. Now, when water pushes its way into the basement, it's collected in the pipes and channeled to a corner of the basement where a high-power sump pump safely removes it from your home. That means no more wet basements and no more water damage!
The Cottrell Basement Waterproofing team will work within your specific needs to ensure that your basement waterproofing system is appropriately customized for your property. Our basement water proofing contractors are here to protect your home from the destructive powers of water, let us take care of your basement waterproofing system and your basement will never be wet again.